The latest copy of F1 Racing just dropped in my letterbox today, and there's an article about the ugliest paintjobs to ever grace a Formula One car. For those who don't have F1R, here's a sample of what they think, adapted & abridged by yours truly. Personally I think at least half of is absolute nonsense and not deserving to be on the list.
The undisputables
SHADOW DN9
When Jan Lammers moved to Shadow in 1979, he brought with him local sponsorship in the form of Samson Tobacco. The emblem of the tobacco company was the lion - which was 'artistically' portrayed on the front of the car; note the 'clever' placement of the car no. in the mouth of the lion and paws clinging on to the front wing. It was rather more tame than they had hoped for however - Lammers failed to score a point all year.
BRABHAM BT60B
The car which ruined the saying 'pretty in pink' also ruined lead driver Eric van der Poele's F1 career, a brief stint at Fondmetal did little to enhance is reputation. Damon Hill couldn't muster much from the ill-handling eye-sore either, and Giovanna Amati's money obviously didn't stretch far enough pay for some new paint either. It was an ugly,
ugly
end for one of the past masters of the sport.
HONDA RA107
A pointless and ridiculous bit of PR spin to avoid telling the whole world they couldn't attract any sponsors for being so hopeless on track, 'Earthdreams' was dreamt up by the people who brought you HRT's 2011 livery. What XIX Entertainment hadn't thought of however was the operating temprature of an F1 engine - the fancy paintwork melted off the engine cover, so the final third of the car was jet black. Once Ross Brawn took charge he had the sense to bin the stupid concept and focus on something important which Honda hadn't been doing - winning.
FOOTWORK FA16
This was a true slap-dash livery, with sponsors randomly plastered all over the car and a scattered diamond livery reminiscent of many much loathed 90s football shirts. Hype coming along with their brash pink logos just made the whole stramash even worse, with the result looking like you'd drank far too many litres of the aforementioned energy drink.
HESKETH 308D
Lord Hesketh was certainly a 'unique' character in F1, much like this questionable livery. And before you ask, the French Maid was there before Penthouse became a sponsor mid-season.
BAR 001
Credit where it's due, Craig Pollock's new team was rather creative with the team livery at the official launch - with one car decked out in a Luckies livery and the other resplendant in the legendary 555 colours. Had the FIA not told them they weren't allowed a different livery for each car a-la-NASCAR the 001 would never have been here; if anything the 555 car would probably have made a 'best of' list at some point. Alas, they did, and BAR's solution was a quick fix half 'n' half. Fine for alcohol, not so great for tobacco...
The disputables
LOLA T93/30
Admittedly this is hardly a favourite of mine - I'd go so far as to day it's barely average. But that's the thing, it's just mediocre. It's not woefully bad like the BAR 001, just a bit run of the mill. As we all well know the car was an absolute disaster, but it gains kudos for providing Luca Badoer his F1 debut. Chesterfield - an sub-par fag brand for a sub-par team.
WILLIAMS FW20/FW21


The issue here is it specifies both the '98 and '99 cars. I would agree the latter was a bit rubbish thanks to splashing bits of while on the front and blue on the rear, but the former actually looked rather smart in its all-over red Winfield livery. Many people will complain that it was an unwelcomed departure from the traditional blue and white of Williams past, but all iconic liveries must come to and end someday - I could imagine there have being some outcry at McLaren dropping Marlboro white and red for West silver and black.
LIGIER JS39
Some people may not like the departure from the traditional Gitanes livery to this more arty look, but to me, it's a step up from what was becoming an old and tired look. At the time it may have been lambasted, but nowadays it has a retro look that I would consider putting in the 'best of' list instead of worst.
BENETTON B186
I am failing to understand why this is even here. BMW were the powerplants behind the B186 that year, and clearly the 'art-car' culture of the Bavarian firm came with it. It's certainly colourful - but not in a bad way like the Footwork was. The tyres are funky - they remind me of the
D1GP HKS Nissan Silvia
which had alternating coloured rims. I can only wish the Pirellis of today had colour coding like back in '86...
The omitted
MINARDI M197
One of the few cases where Mild Seven sponsorship was a complete disaster. Black, White, Yellow, Blue all striped together. Does it make sense to anyone else? Because it looks rather pathetic to me...as were the results, no points scored despite Trulli and Katayama's best efforts, and Marques'...well, you get the point.
LARROUSSE LH94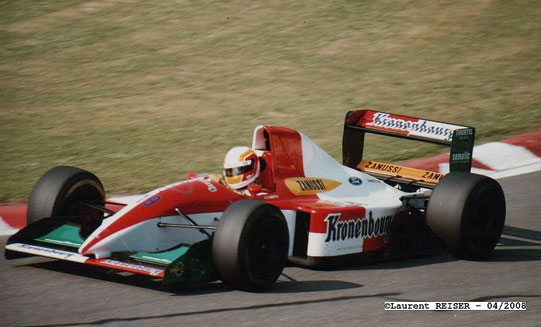 It's an F1 car, not a jester. Wise up Gerard.
TOKEN RJ02
This car could have been saved had Motul not pulled the plug on their sponsorship of the team before the season began - with very little financial backing they only started 4 races in the entire season, notably giving Tom Pryce his F1 debut, followed by a DNQ by David Purley at Brands Hatch and handing debut drives to another Brit - Ian Ashley, driving to 14th at the Nordeschlife. A token effort by Token, reflected in their rather bland, uninspiring and ghastly livery.
RENAULT R29
The final traces of Mild Seven were finally gone forever - and ING had finished spreading over the car like a disease slowly infecting every inch of the body. The yellow & orange stripes were particularly hideous, but in fairness, the rest of the car deserves just as little credit as the shark-fin paintjob. Only Alonso's brilliance could drag this pile of garbage into the points, with Piquet being hopeless and then banned to make way for the unprepared and hapless Grosjean. Being passed by Badoer is not a good way to announce your arrival to Formula One...